Arsonal da rebel ft, NLE Choppa – "Wrong Nigga"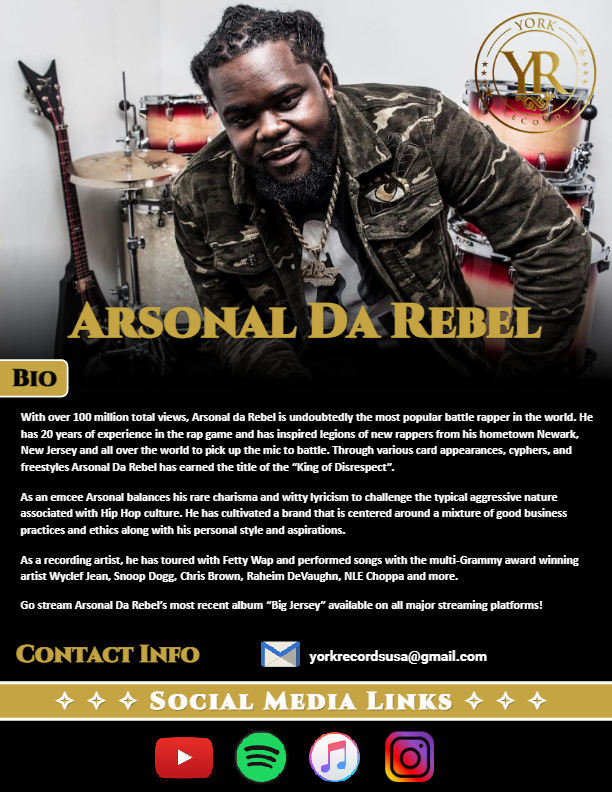 With over 100 million total views, Arsonal da Rebel is undoubtedly the most popular battle rapper in the world. He has 20 years of experience in the rap game and has inspired legions of new rappers from his hometown Newark, New Jersey and all over the world to pick up the
mic to battle. Through various card appearances, cyphers, and freestyles Arsonal Da Rebel has earned the title of the "King of Disrespect".
As an emcee Arsonal balances his rare charisma and witty lyricism to challenge the typical aggressive nature associated with Hip Hop culture. He has cultivated a brand that is centered around a mixture of good business practices and ethics along with his personal style and aspirations.
As a recording artist, he has toured with Fetty Wap and performed songs with the multi-Grammy award winning artist Wyclef Jean, Snoop Dogg, Chris Brown, Raheim DeVaughn, NLE Choppa and more.
Go stream Arsonal Da Rebel's most recent album "Big Jersey" available on all major streaming platforms!
https://open.spotify.com/track/4mCTKN5nN1duYeYypmsBgD?si=35fa81c67a1a4972