[NEW MUSIC] SYCKCEZZY- "DOWNFALL" FT. DANIEL PETER | @SYCKCEZZY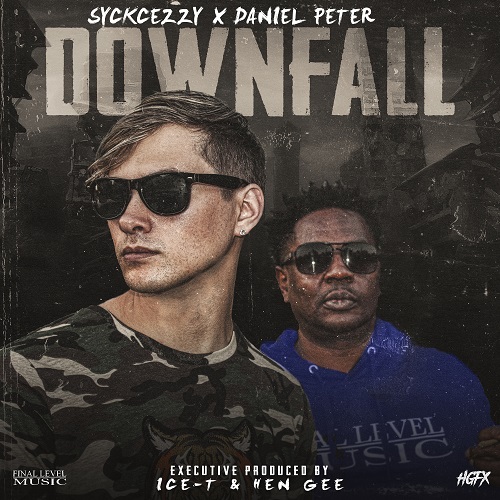 Final Level Music Artists SyckCezzy and Daniel Peter are back with a new joint entitled "Downfall." It's a creative project that showcases Syckcezzy's gritty poetic style and Daniel Peter's silky vocals. The duo skillfully explains how a precipitous decline in status or wealth can happen when a hater speaks against you. The track was executively produced by two well-renowned veterans in the game-Ice-T and Hen Gee Garcia.
SyckCezzy was born in Missouri and raised in Richmond Virginia. Growing up on the southside of Richmond wasn't the ultimate dream for the young Syck but it was an experience. SyckCezzy prides himself as a diverse artist that works with all genres of music. Ten years from now, Syck will focus on different phases and styles that the hip-hop genre has gone through over the last few decades. With a winning strategy in place, SyckCezzy plans to put his people in a position to win along with giving back to his people. His message to the youth is strong- "Please educate yourselves by paying attention, follow your dream, work hard, and don't accept "NO" as an answer." The rapper/entrepreneur has a new business venture and it is 'Syck Wine' to build generational wealth.
Daniel Peter isn't new to the music scene. This young, driven American Pop artist was first discovered at the age of 13 when his music went viral. The Ames, Iowa native has been singing since the age of two and is a self-taught musician of four instruments.
Daniel has been passed the torch from his father, who played the guitar for the band "Willy and The Rockets" and was an active singer in their home church. As for his mother, she is the backbone of his support and his number 1 fan. Family values are very important; therefore Daniel devotes himself to staying connected to his hometown. As a young kid, who was repeatedly a victim of bullying, Daniel has vowed and dedicated his music as well as his entire brand to making his fans smile and encouraging living life optimistically. With influences such as Michael Jackson, Usher, Chris Brown, Justin Timberlake, and Kehlani, Daniel Peter brings a touch of greatness to the realm of music. Through the intriguing blends of R & Bass, Pop, and Rhythmic fusion, this young phenomenon is the future sound of music.
The single is available on all digital music platforms including Spotify and Apple Music. Be sure to connect with SyckCezzy and Daniel Peter on all social media and digital music platforms.
https://open.spotify.com/track/30FwR3myzLrFePsboKQsWR?si=e3aad5cef1bc439d
CONNECT WITH SYCKCEZZY ON SOCIAL MEDIA:
CONNECT WITH DANIEL PETER ON SOCIAL MEDIA: