HAYZE2150 MIAMIS VOICE OF THE GLEECE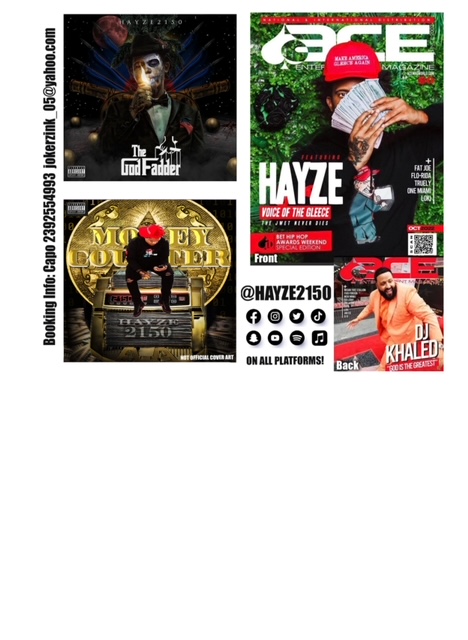 HAYZE2150 MIAMIS VOICE OF THE GLEECE
Emerging artist Hayze2150 is going to release the "JWET MUSIC" wave onto the hip hop scene. With numerous lyric references in mainstream hip hop & television, magazine covers, & millions in streams, we're catching the early scoop with a few words from the growing underground giant himself.
"Having the chance to share your feelings with others through music is a priceless experience." says Hayze. "The best part is hearing from listeners who appreciate Hayze music and can identify the messages in my songs."
ABOUT THE ARTIST
The North Miami Beach, Florida-based artist Hayze2150 has been on the rise with a precedence resume as a professional musician for the past 6 years. His debut track "NOW OR NEVER" was a freestyle remix of Eminem/Jay-Z "Renegade" recorded at a home studio. His most popular YouTube visuals to date include "IMA JAAB" "NORTH MIAMI BEACH" & "I PEEP ft OSN SMACKAROO". His first tape "LABBIN" reached over 700,000 streams on Soundcloud with his signature song "GLEECE" & the street single "WHO IS YOU" coming into & over 200,000 streams respectively. Not to mention quality features from the likes of B. Money, Jim Jones Vamp Lyfe's artist in an early street anthem "Recipe", local Dream Chasers artist Tafia on the single "Thug It Out" released in 2019 as well as Little Haiti's EastWay Santana on "Fed Up". Completing over 3,000,000 streams overall on Soundcloud. A proud dad, he attributes a lot of his drive to his talented son Z who is also a skilled musician(drummer) obviously stemming from his solid parental musical background.
Rolexxx Gentlemen's Club is where he made his stage debut. And after a series of hiatus tapes called "Sorry for the Pwess" he's taken the 2020s by storm. He's currently featured, for the second time, on the cover of Ace Magazine. This time he's adjacent DJ Khaled for the 2022 BETHipHopAwards Weekend Special Edition. Hayze also recognizes his local support network of DJs include DJ Jeff, DJ Meat (StampedNDaStreets Radio), DJ Lucky C (99Jamz), DJ Pt305 DJ Smokey (Tour DJ for LupeFiasco & Billy Blue), DJ Phresko, DJ Kreep, DJ Gwap(Voodoo Money Records), & DJ RichBoy a Miami native Stationed in Atlanta's King Of Diamonds. His inspirations of taste include greats like Lil Wayne, Biggie, Tupac, Jay Z, Future, Gucci Mane, Boosie, 50 cent, Drake, Rick Ross, Meek Mill, as well as rocking out with fellow generational music mates like Kodak Black and Rio Da Yung Og.
He follows The Golden Rule, or "Treat others as you would like to be treated," as his guiding principle. His YouTube channel (https://www.youtube.com/c/Hayze2150)  has seen more than 400,000 views since its start in 2015 in under 17 visuals. Hayze says he also wants to work with "Lyrical Lemonade because I believe he can bring my vision to life".
ROLE OF MUISC IN HAYZE LIFE
"Since listeners let their emotions be influenced by the music they hear, the artists shoulder a heavy responsibility. People's minds can be swayed by music. People have been known to report that a song saved their lives when they were on the verge of emotional and mental collapse. One of his main interests is music, so I take pleasure in composing and performing". Because of music, he is now "more attuned to the emotions of those around him". Hayze has such an impact on his community musically, he's already getting booked for weddings and children's party appearances in his hometown, according to his management. Appearing at several festivals put on by the City of North Miami Beach hosting Rock The Vote NMB with the Rockstarr herself Trina, Hayze also proves that his gritty real life lyrics don't dilute his real world commitment to bettering his communal environment for future generations.
UPCOMING PROJECTS
Hayze is onto bigger moves, from performing for majors like Boosie & Master P during Ace Magazine Music conferences throughout South Florida to working with his community, to having his lyrics ("JWET") quoted on the HBOMax series RapShit by Issa Rae & by other power artists like CMG signee EstGee in his feature with Jack Harlow "Backstage Passes", to going viral on TikTok with one of his recent performance videos getting over 250,000 streams.
Hayze is a full circle artist with impending success is his future. Currently he's rotating his new unofficially released hit single, influenced by his own lifestyle, titled "Cha Ching" throughout Miami, Atlanta night clubs. It has already gotten the salute from DreamChasers head honcho Meek Mill on IG & has spun on Sirius FMs Shade45.
The single will be featured on another fourth quarter solo installment, The Money Counter projected to hit the air waves Thanksgiving weekend. He has plans to hold his own upcoming tour for 2023, "The Gleece Tour" with various artist from Miami, Michigan & Atlanta headlining. But for more immediate music he will be release his highly anticipated project "The God Fadder", due to drop 10/31/2022.
"The GodFadder" title is prime with features from KTB artists 26 Big Fredo, 26 CeeJay, H.I.M Nigga. Hot local features from Jim Jones artist NMBs B. Money & Slip N Slide artist Mike Smiff keep that hometown impact while a most notable feature with Louie Ray out of Flint Michigan for their hit "Dog Food". A strong run for the end of 2022.
MUSIC AS HAYZES CAREER CHOICE
He finds that music is a way to keep his cool under extreme circumstances. Hayze says that "through music", he can "testify to others and share his beliefs". "I see hope in music's power to transform the world" and hopes to use his musical talents to share his deepest emotions with the world.
Social media:
Instagram: @HAYZE2150
Twitter: @HAYZE2150
Booking Info:
Capo 2392554993